The Aurora Ceres Partnership Ltd are recognised as thought leaders and food industry experts. As such they are regularly approached to contribute to numerous publications, books and journals and are to provide comments as industry experts by media organisations.
Publications: Journals, Books, Editorial and News Features from The Aurora Ceres Partnership Ltd: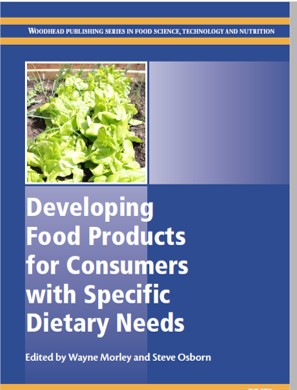 Naomi and Steve recently a wrote chapter on "Organizational structure and business and technology strategy of food companies to optimize development of foods for consumers with specific dietary needs" for the forthcoming Woodhead Publication; "Developing Food Products for Customers with Specific Dietary Needs".  This book in also being Edited by Steve in association with Dr Wayne Morley. This book was published on 1st June 2016
Recent media contributions include:
The key trends for 2019 –  what food industry experts are predicting
Food Industry experts share their trend predictions. – Nutraingredients October 2018
A perfect storm for personalised nutrition says food innovation expert – Nutraingredients June 2018
Latin America can learn from healthy reformulation efforts of Europe and USA – Food Navigator-LATAM April 2018.#
The Clean Label Paradox: Published in 'Free From Heaven' May 22nd 2017.
Key Ingredients for Clean Label Success: Download the output of the Ingredion round-table sessions, '2020 The Future of Simple, Natural and Clean Label Food', here.
Companies eager for sugar reformulation could lose sight of healthy goal – experts Food Navigator 10th August 2016
The Rise of the Robots in Food Manufacturing IFST knowledge centre 9th August 2016
FDF 'stealth' sugar reformulation recommendations stir expert debate Food Navigator 9th August 2016
Non-synthetic' food colours: Acceptable compromise or too far from nature? Food Navigator 21st June 2016
'Time to act: robotics in food and beverage manufacturing' FoodBev Media 20th June 2016
Robotics in food and drink manufacture: A lesson in Open Innovation – Food Matters Live 25th May 2016
Why are carcinogens in the food chain evading scrutiny? Food Navigator May 2016
Adopting New technologies – Nutraceuticals Now. Winter (March) 2016.
Strategic reformulation: adopting new food and beverages technologies – Food Matters Live Table Talk
Private label trumps brands over negative feedback – but can brands afford to become complacent? Retailers pledge to change misleading products as 13,000 Dutch consumers vote for the worst offender of 2015, but as branded manufacturers have remained silent experts warn they should not become complacent.

Risotto rice is targeted by fraudsters

Food fraud is a going trend, and other premium products are always going to be the focus of potential fraud and adulteration.

Should companies use social media to deal with a food scandal?

 Food Industry expert, Steve Osborn discusses the importance of management of the social media flurry in the event of a crisis, especially when that food safety crisis has been publicised by social media.

Sustainable sourcing starts with better use of your own company's waste

 Steve, our food and drink industry expert discusses the issues with food manufacturing waste with Food Navigator reporter Nathan Gray.

Antibiotic-free – Is this the next ethical food label?

 The rise of concerns around Antibiotic use in food is discussed by Steve, our food industry expert.

Unsustainable standards? Questioning the ethics of sustainable sourcing

 The issues surrounding conflicting sustainable standards are explored by Steve and Food Navigator.com
Is Organic the best start to the day? Steve Osborn discusses how breakfast could be an ideal route into habitual organic foods, but it may be at risk from the rise of 'on the go' breakfast options.
Organic NPD essential to mainstream 'healthfication' ? Food industry expert Steve Osborn discusses the future for organic foods with food Food Navigator.com
Will voting help us waste less food? Food industry expert Steve Osborn discusses the impact of the forthcoming election on food waste in the Food Science and technology Show Blog
The 2015 general election debate: which party is good for us? – Strategy and Innovation expert Naomi Diaz discusses the impact of the forthcoming election on the health of the nation in the Food Matters Live Blog
The Food Industry won't swallow this book – Food industry slammed for misleading the consumer- Food Manufacture 23/04/2015
Tailoring food and drink development for the Millennial Generation – Food Matters Live blog April
Our strategy and innovation expert, Naomi again teamed up with food industry expert Steve to write and article on "The Clean label and Health Paradox" for the June edition "The World of Food Ingredients"
Naomi and Steve have recently contributed a number of articles to  Food and Drink Technology:
"Technology Stewardship" November 2018
"Road-Mapping for NPD", February 2015.
"NPD: Things to consider", March 2015.
Steve has recently written a chapter on "Labelling Relating to Natural Ingredients and Additives" in "Advances in Food and Beverage Labelling" (Berryman 2014), published by Woodhead Publishing, London.
Steve has authored a chapter on "Food Wastage" for the forthcoming publication "Encyclopedia of Food and Nutrition" from Elsevier Ltd to be published in 2015.
If you are interested in The Aurora Ceres Partnership Ltd providing regular contribution and editorial comment to food and beverage industry publications or on industry issues, please contact us via our contact page