Food Technology Scouting by The Aurora Ceres Partnership Ltd.
As food and drink industry experts, The Aurora Ceres Partnership Ltd understand that finding the right ingredients, the right technology or the right solutions for your products can be time consuming. As we have an extensive network of industry and academic contacts we are able to make the food technology scouting process more efficient. Whether you have a technology or a solution, we are there to help you take ACTION to find the right application or technology. Our food technology scouting methodology then utilises recognised technology and commercial readiness scoring to help you evaluate and filter the 'long list' into something a little more manageable and realistic.
ACP will undertake a multi-faceted food technology scouting approach to ensure that a broad exposure is achieved and the right solution or application is found. This can be completed on an open or completely confidential and anonymous basis.
We will always tailor the scope of our food technology scouting activity to suit your needs and budget.
Food technology scouting definitions:
Challenge – In the spirit of open innovation, a 'challenge' can be considered as an 'outside-in' request whereby you define a 'need' that your company is facing. This need might related to ingredients, technologies, skills or knowledge.
Potential – Again, in the spirit of open innovation, a 'potential' can be considered as the answer to a problem that is yet to be defined; 'inside-out'. Your company may have an ingredient, technology or skill that has potential but is yet to find a commercial use.
ACTION Calls – These are 'challenges' and 'potentials' that ACP circulate to their extensive Food & Drink network through a combination of targeted emails, social media channels, direct phone calls and access to a wide scope of networks.
ACTION Food Technology Scouting
ACTION is a technology scouting programme that is tailored for each client and each project and follows our 4 stage approach: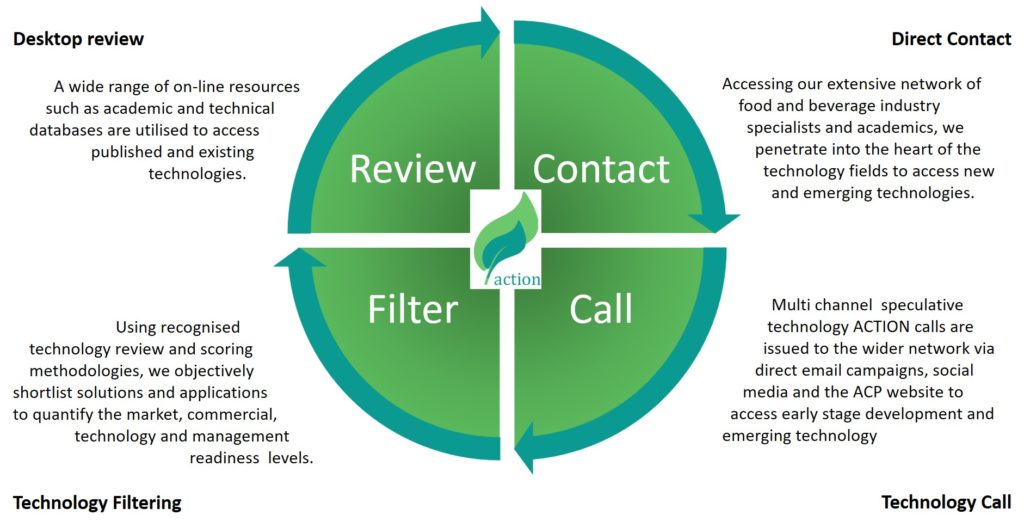 Please contact us at

[email protected]

for more information.