BASIC textur
ACTION ref:  F/16/21/1
BASIC textur is a purely plant-based texturizer composed of water and citrus fibres. It is well suited as a colour and taste-neutral texturizer.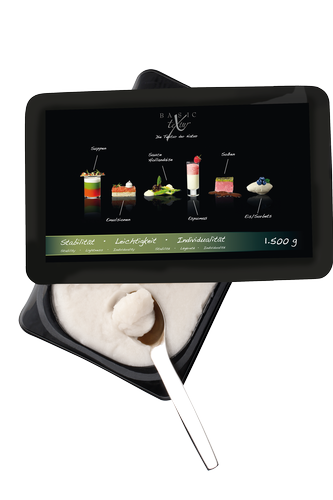 At the parent group Herbstreith & Fox citrus fruits as well as apples are used for the production of pectins and plant-based raw materials for the food industry. Citrus fruits are gently dried after extracting the juice and oils. Lemon pulp, which consists of small vesicles filled with juice, is encased in a sponge-like white layer (also known as albedo). Just like the juice sacs, this inner layer of the lemon peel contains dietary fibres – citrus fibres. Those citrus fibres and water are the ingredients of BASIC textur.
BASIC textur is resistant to acids and alcohol, enriched with dietary fibres, low in calories, contains no additives, free of allergens and free of gluten, neutral in taste and can be applied between -25°C and +220°C.
A reduction of fat and the replacement of ingredients that are high in calories such as flour, starch or other thickeners is our commitment to modern nutrition. The preparations are calorie-reduced, lighter and healthier without any loss of aroma or taste.
We intentionally want to change kitchen processes. Production using fresh ingredients with shorter preparation times meets the requirements of the chef by using fresh produce on one hand and the requirements of the customer on a healthy nutrition that is rich in vitamins on the other.
The result is a purely plant-based, texturizing basic product with high nutritional value. It perfectly combines tradition and technologies of cooking with the demands on a modern cuisine and defines textur in a completely new way.
Texturizing is primarily based on adhesion (surface adhesion). In the physical sense, adhesion describes the adherence of two unlike materials. Adhesive forces are achieved by molecular interactions between the surfaces.
BASIC textur is the ideal alternative to flour, starch and other stabilizing systems and benefits from versatile applications in every cuisine due to its technological features.
Starting from the end of 2014 the regulation (EU) No. 1169/2011 of the European Parliament and of the Council on the provision of food information to consumers will apply. Shortly, a new declaration obligation for allergies – also for unpacked foodstuffs. This results in an extreme challenge for all catering and gastronomy businesses.
BASIC textur currently does not require any allergy declaration under regulation (EU) No. 1169/2011.
BASIC textur is versatile in usage, preserves the natural taste of ingredients and is easy to use.
Scope
Our client, Ismail Cuneyt Oktay ICO CATERING LTD, is now looking to engage with progressive food and beverage manufacturing companies looking to enhance the texture of their products through using BASIC Textur, a natural texturising ingredient.
Response
For more information  contact Steve Osborn (steve.osborn@auroraceres.co.uk), with a subject line ACTION ref:  F/16/21/1  BASIC Textur detailing:
Contact details
Interest areas
Product range
Desired product profile